The U13 soccer team fared exceedingly well at the soccer tournament held on Saturday 17 August. They reached the semi – finals against Port Shepstone Senior Primary and gave a sterling performance. Well done, boys.
Mrs Estelle Alberts is busy preparing a large contingent of learners for the upcoming Eistodd ford to be held at Creston College this week. Learners will take part in choir and solo performances of songs and poems.
Saturday's meeting (August 18) of parents at school was poorly attended.
A group of 23 boys were circumcised at Port Shepstone Hospital on Friday 17 August. It was conducted by the Department of Health.
Gift of the givers paid a visit to the school on Monday 13 August with over forty soup and care packs for the learners. Their representative, Mrs Raesa Amegee, handed over the packs to the principal. Many thanks to Gift of the Givers and Mrs Amegee for their generosity.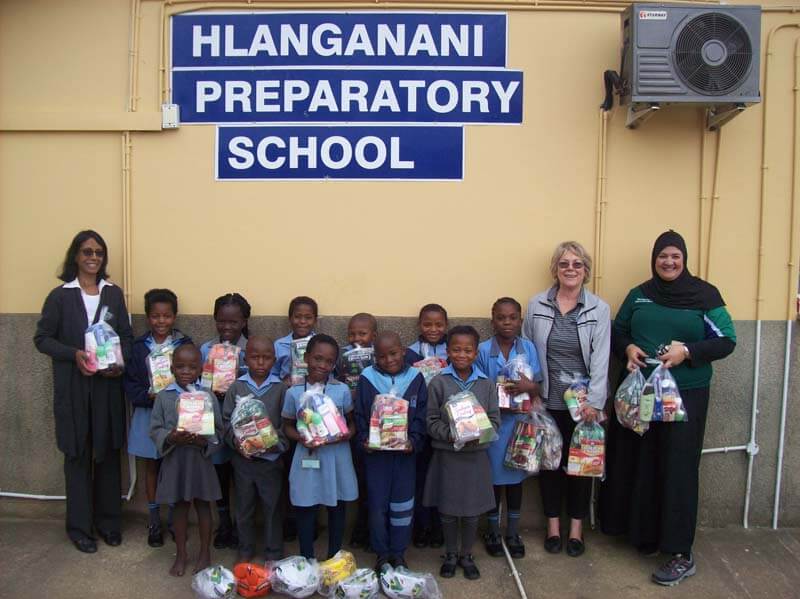 Back row from left: Mrs Neela Reddy (educator), Sphumelele Mzelemu, Luthandolwethu Nyawose, Ziyanda Nxumalo, Zamokuhle Gcaba, Ngcobo Minenhle, Semeni Sifa, Mrs Elaine Galanakis (Principal) and Mrs Raesa Amegee (from Gift of the Givers).
Front Row from left: Aphiwe Gcaba, Mfundo Xolo, True-Love Madikana, Nomvelo Khoza and Yandisa Mzotho.