What a busy week! It was all about Awards Day. Foundation Phase had its Awards Day on Wednesday 8 November at school. The event was a great success with well over a hundred guests attending. Parents were kept entertained by songs and poetry recital from the little ones. The Highlights were the presentation of the awards. The recipients were thrilled with their colourful books, writing equipment and certificates.
The Intermediate and Senior Phase had their Awards Evening at Norwegian Settlers Church on Friday 10 November at 18:00. Unfortunately, the stormy weather kept a few learners away. But almost a hundred parents attended. Thanks to them for braving the weather. Guests included Mrs Mondy Powell, the founder of the school, Vuyo Gasa and Sithembile Ngcobo, past learners of the school. Every grade performed poetry recitals. The school choir rendered beautiful songs. The Dux recipient was Nothile Cele, who has a distinguished academic record at the school. Learners who attended the school from grade 1 to 7 also received certificates.
Final exams began on Monday 13 November with the English and Zulu papers.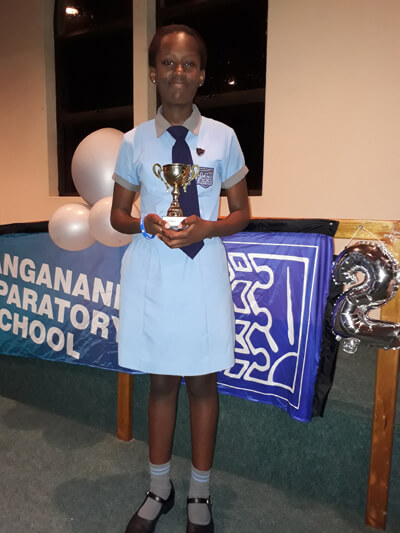 PHOTO (Nothile Cele the Dux recipient, she also attended the school from grade 1 -7)